Help!
9/24/10
We are building a new ramp. We can use donations of steel--stuff like expanded metal, square and rectangular tubing, angle, and round tubing. We could also use a dual axle trailer to build the whole thing on. We have a bunch of 2X3 rectangular tubing, but it's all welded up in a pallet for machine tools, so I'm not sure how much of it is usable.

Contact me at FLeany (a) gmail dot com if you can help.

Also, I've posted some links to some cool old derby photos on the photo page. I'd stick a link here, but I'm too lazy--but no lazier than you are if you can't click on the link at the top of this page . . .

:o)
---
2010 Debrief
8/19/10
I have posted the notes from our post-race evaluation (we don't call it a post-mortem--bad luck in racing) here in MS Word (pre-Office 2007 disaster) format.

The main complaint was that it was super disorganized. Next year you have to be registered two days before the race or you don't race. Let me put that a different way: YOU HAVE TO BE REGISTERED TWO DAYS BEFORE THE RACE OR YOU DON'T RACE.

We had no idea who or how many cars or racers we were going to have and were still putting together brackets ten minutes after the race was supposed to start. Two days before the race starts next year we will know all of the first heats for all of the divisions and have an idea of all of the possibilities as the brackets tighten.

Also, we're going to build a super-duper extra deluxe ramp for next year. Read the notes, if you want. Save me typing everything out twice.
---
Results 2010
8/12/10
Thank you to everyone who helped pull of this year's race. As Russ said, we passed probation. Please post your feedback on our FaceBook page. We'll have a meeting the 19th at 8:30 to consolidate all the ideas for improvement for next year.

Chief among those improvements will be that all racers will have to be registered by the Monday before the race. Most of the delays last night could have been avoided had we come to the race with an accurate list of who was going to race.

We ended up with 17 racers in six different cars.

People's choice award: Tracy Scott's car, driven by Tracy, Thayne, and Tyson Scott

Stallion class:

1 Dave Hill
2 Russ McConahay
3 Amie Hill
Talina McConahay, Tracy Scott, Jared Beal

Mustang class:

1 Caleb Sly
2 Kenyon McConahay
3 Ashley Hanchett
Michelle Beal, Jon Hill, Thayne Scott, Dallin Hanchett, Asher Saxton

Colt class:

1 Jared Sly
2 Tyson Scott
3 Hyrum Beal
---
We are now on Facebook
8/8/10
Please post your feedback and suggestions on our Facebook page. We are called Salem Derby.
---
Ramp Weight Utility
7/22/10
Since we run the same cars in different classes, questions have come up about how to guarantee the ballast is correct for each race. We could run every car across the scales for every race. My brilliant son came up with a way to weigh the cars on the ramp. You just weigh them with a game scale held parallel to the ramp and trig out the corresponding mass.

We will probably have all cars have an eye bolt set 12" high on the back of their car and have the game scales mounted 12" off the ramp. I have included a page in the spreadsheet for what the scale readings are that correspond to the car's mass based on ramp angle.

If you'd like you can make a little slide rule that shows the same thing by printing out this image on card stock. Cut on the solid lines, fold on the dashed ones. Wrap the outside around the inside then for a given angle of the ramp you can read directly the maximum the game scale can read for the car to be in compliance.

No charge.
---
Final Rules Posted
7/06/10
The version in the word document is the final version. Main rule changes are:

Registration fee is $10 per driver. Racers must show proof of having paid before they can race. Wheels are no longer subsidized by the City. Each racer buys his own from Harbor Freight.
Colt Class racers will be started below the ramp to reduce their top speed.
All vehicles must be equipped with brakes that contact the rear tires. Brakes must be able to completely stop the tire. The driver must be able to steer while braking.
Pivot axle steering must have limiters that prevent the car from turning a radius tighter than 15 feet. Careful consideration should be given to the steering ratio (angle of steering wheel turn to angle of front wheel pivot) to ensure that the steering is not too sensitive.
Maximum height of the seating surface is 16" above the road surface.
The preliminary inspection has been moved up to 1-1/2 weeks before the race to allow more time to make changes. (6:00 pm Friday, July 30, 2010, in the parking lot by the pond)
Maximum weights have been bumped up
Rules Updated
7/06/10
I've modified the rules and posted the latest. These may change pending a meeting of the race committe this week. But they're close.

The weight limits are increased slightly. We now require brakes that stop the back tires (no more road drag devices). The tightness of the steering radius is limited and the inspection date is moved forward to a couple of weeks before the race to ensure that everyone has time to make the cars safe. We will measure both braking and steering at the inspection and if you don't pass you don't race. That way we don't give anyone an excuse to cancel our fannies again.

We will fully line both sides of the road this year with straw bales. We may even put a line of bales down the center. If you're curious about why the new emphasis on safety search "Soap Box Derby Crash" on YouTube.

We've added verbiage to the effect that you should keep the center of mass as low as possible, but we probably won't place a measurable requirement on that (because I'm too cotton-picking busy to build the device).

Another new thing this year is that we will be enforcing the entry fee. In the past we figured it was the city's job, and I suspect some people figured that the chumps who paid the fee could supply the money for the prizes. This year if you don't have a receipt from the city you don't race.
Derby Back On
11/05/09
The city has agreed to resume the Gravity Gran Prix. Thanks to everyone who worked on petitions and presenting and keeping the heat on.

I'll post new rules and guidelines early next spring. In the meantime, don't turn that soap box racer into firewood.
---
Rules and Specifications 2010
---
Eligibility and Registration
---
The Salem City Gravity Gran Prix is open to everyone, regardless of age or gender. Non-residents of Salem City are welcome to participate. Participants must be registered by July 30th.
Registration is through Salem City offices. Registration fee is $10 per driver. No one may race without paying the fee. Every car must have a unique number given upon registering. You may use any number you choose as long as it isn't being used by a car that is already registered.
A single car may compete in multiple classes (in the case of multiple children in one family, for example) provided it meets the weight requirements for each class in which it is competing. (All ballast must be bolted or otherwise securely fastened.) Each car may have only one driver per class.
Competitors are divided into three weight classes. Suggested ages for the classes are:
Sponsors are allowed and company names, logos, etc. may be displayed on the cars.
General Information
---
Race will be held Wednesday, August 11, 2010 at 6:00 pm, just west of Knoll Park on 300 South. Inspection and weigh-in begin at 5:30.
Racers are to be completely gravity powered. No starting or propulsion devices of any kind are allowed. Driver must be in a seated position. No head-first configurations are allowed. Reclining to any degree is an acceptable configuration as long as driver visibility is not impaired.
Some hints and guidelines for building soap box derby cars are available on the internet. Tips and links are available at Leany.com. Be aware, however, that this event is in no way affiliated with The All-American Soap Box Derby and rules and specifications for those events do not necessarily apply.
Any questions, comments, or requests for clarification should be directed to Frank Leany at 423-8588 or by e-mail at



(include the words "Derby" or "Gravity Gran Prix" in the subject to avoid being deleted as spam).
Spirit of Fair Competition
---
The objective of this event is to provide fun for everyone regardless of resources. To that end the rules strive to provide maximum safety and fair competition with the fewest requirements possible.
In the event of unanticipated situations that may arise, the racing committee reserves the right to maintain the spirit of the rules by passing judgment on items not specifically enumerated in those rules. If you have a question about whether something is appropriate, ask. A phone call now could prevent a disqualification at inspection time. As conditions may arise that require additional clarifications, they will be applied universally to all participants.
Safety
---
All drivers must wear an approved helmet (DOT, Snell, etc.). Cars should have full bodies including floors to prevent the driver from accidentally contacting the pavement. The vehicle must not have any sharp projections, loose parts or edges that might pose a safety hazard. All ballast must be securely fastened and cannot move, accidentally or with driver intervention, during the race. Anything inside the cockpit that could injure the driver in the event of a crash should be padded. Seat belts are not required.
Care should be takent to ensure that the center of mass of the vehicle is as low as possible. Maximum height of seating surface is 16" above the road surface.
In order to maintain the safety of the event the race committee may impose additional requirements as conditions warrant.
Vehicle Specifications
---
Minimum
Maximum
Track width (outside of tires)*
24 inches
36 inches
Vehicle height (highest point)
3" ground clearance
60 inches
Total vehicle length
72 inches
96 inches
Wheelbase
48 inches
72 inches
Vehicle Weight
Colt (about 8-12 yrs)
- none -
275 lbs. with driver
Mustang (about 13-17 yrs)
- none -
340 lbs. with driver
Stallion (about 18+ yrs)
- none -
400 lbs. with driver
*Width of body cannot project beyond maximum width
Colt Class racers will be released below the ramp to reduce their top speed.

All weight must be bolted or otherwise securely attached. No loose ballast is permitted.

Cars may be made of any material. Any metal frame elements that extend beyond the wheels must be properly blunted with a cross bar to prevent piercing in the event of a crash. Sheet metal on the body is okay. Axles and components may be steel. Road clearance must be no less than 3". To clear the ramp the ends of the car must be above a line 20 degrees with horizontal from the wheel centerline. The furthest forward point of the car must be no higher than 12" so the starting gate will contact. Car must have 4 wheels and all four wheels must be in contact with the track at all times.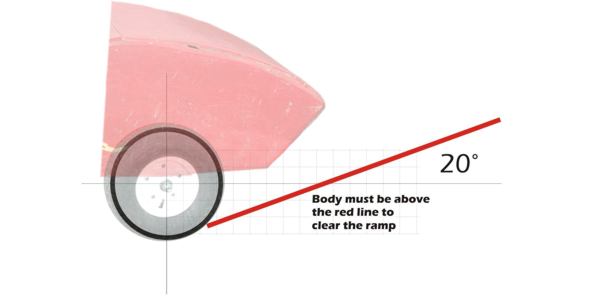 Wheels
---
This is a spec wheel event. All racers must run the specified wheels.
Wheels are Harbor Freight PN 36054-1VGA, 13" diameter pneumatic tires with integral bearings.
Wheels fit on a 5/8" axle. A 5/8" bolt 4-1/2" long is just the right size to go through the hub. Wheels must have some sort of locking arrangement on the nut such as a locknut or an additional nut.
Wheels may be trued, balanced, etc, but no material may be removed from the wheels other than that necessary to balance. Wheels may be lubricated, but no modifications to the bearings are allowed.
Brakes
---
All vehicles must be equipped with brakes that contact the rear tires. Brakes must be able to completely stop the tire. The driver must be able to steer while braking. Braking tests will be conducted at the inspection on July 30th to ensure that they are adequate. Cars without adequate brakes will not be allowed to race. Hand brakes are discouraged. Consideration will be made for those with physical disabilities.
Steering
---
Steering must be positively controlled. Driver must be able to steer with one hand if necessary. Pivot axle steering must be equipped with limiters that prevent the car from turning a radius tighter than 15'.
No rope pull steering is allowed. Foot steering is not allowed. Cable wind steering (a cable is wrapped around a cylinder that pulls on the axle as the shaft is turned) is recommended as an easy way to positively steer. Tiller steering is discouraged, especially if the car is equipped with a hand brake.
See attached detail for information on steering.
Inspections
---
A preliminary inspection will be held Wednesday, July 30, 2010, at 6:00 pm in the parking lot by the pond. The purpose of this inspection is to give the participants time to apply any modifications that may be required. Helmets will also be inspected. No one will be allowed to race with a helmet that is not Snell or DOT approved. Bicycle helmets are not allowed.

At this inspection each racer will be given a blank scoring card (if you don't already have one). This card is to track your position during the race. Take this home and decorate it with your car number and name and the paint scheme of your car so that it's easily identified with you. You can make a scoring card by cutting poster board to 6" by 22" (the width of poster board). Every racer has to have a card (that's how we know you're in the race). Be sure to pick up your card after the race if you want to keep it as a souvenir. If you don't we'll keep it for you to use next year.

Final inspection will be performed at 5:30 on race day. Winning cars in each heat may be inspected after the race to ensure that they meet the spirit of the rules.

Race procedures
---
Final inspection and weigh-in are at 5:30 the day of the race. Take your signed inspection sheet and scoring card to the recorder who will issue you a name badge certifying you're allowed to race.

Cars will be towed up the hill after each race. Please provide an eyebolt or similar provision to attach a tow strack. Follow the instructions of the race steward who will ensure that you are lined up for your next race.

Drivers must keep hands and arms inside the body at all times. Any actions that appear to be pushing or propelling the car could result in disqualification from the heat. Any car that leaves its lane during the race may be subject to disqualification. Crowding or other unsportsmanlike driving is not allowed.

Racing will be double elimination in heats of 2 cars each with 3 places being awarded in each class. In addition, a People's Choice Award will be given to the car that the spectators vote as their favorite.

The format of the race may change as conditions and participation warrant.

Parade and Car Show
---
Racers are invited to participate in the parade on Saturday. Contact Jeff Sly at 3528-5998 to make arrangements for your car to be in the parade.
At the end of the parade we set up the cars in the park for display during the festivities. Your car doesn't have to be in the parade to be displayed.
Racer's Checklist
---
Registration and Entry Fee due Friday, July 30, 5:00 pm, City Offices, 423-2770
Preliminary Inspection, Friday, July 30, 6:00 pm, Knoll Park Parking Lot
Pick up Leader Board Card at Preliminary Inspection
Inspection & Weigh In, get badge, Wednesday, August 11, 5:30 pm, Derby Hill, 300 S
Driver's Meeting, 6:00 pm, August 11
Race, Line up cars at top of track, follow instructions of pit steward, have helper to push
Awards Ceremony (Take Leader Board Card), After the race
Parade, Saturday, August 14, 10:00 am, Contact Jeff Sly, 358-5998
Display of Cars in the Park, After the parade, in the park by Car Show